Our Advantage
ZHISHANTOY
High-quality Selection Affordable Price Convenient Express Payment Security
HIGH-QUALITY SELECTION

ZHISHANTOY, as a strategic brand product of the renowned Chinese cross-border enterprise Globalegrow, is backed by abundant funds and resources. Toys on ZHISHANTOY are managed through a professional rating system to select top suppliers and optimize the procurement of quality goods, while at the same time, maintian the comprehensiveness of product categories.

Comprehensive Quality Control

Through the comprehensive quality control, all products are guaranteed to be genuine. ZHISHANTOY strictly follows five steps of CITST quality control, namely Checking suppliers, Inspecting production, Testing sample quality, Spot-checking products, Tracking after sales, ensuring all products meet a consistant quality standard and users' requirements.
AFFORDABLE PRICES

Direct production, Best Price

Supported by ZHISHANTOY'S premium supply chains and self-built supplier repository, ZHISHANTOY has got advantage and independence in pricing, providing the cost-effecient toys with great quality to global users.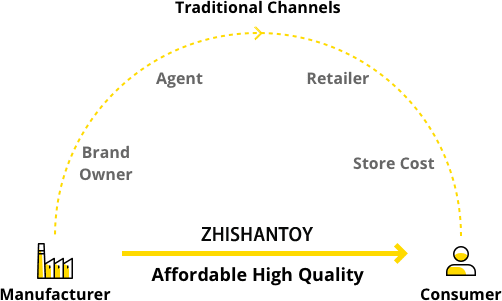 CONVENIENT EXPRESS
ZHISHANTOY provides the most cost-efficient delivery service covering 200+ countries and regions, most of which enjoy free door-to-door delivery.

Cross-border Special Line, 5-day Delivery